Focuser & Viewfinder

Old Style which I used, but is no longer available.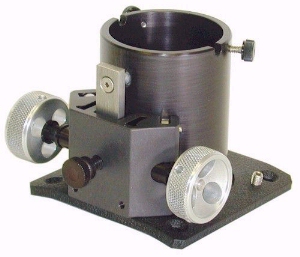 New Style, now available.
In the photo, (ABOVE), you will see two views of the JMI Reverse Crayford 2" , RCF-1 focuser. This focuser comes with either all metal thumb wheels or rubber coated thumb wheels. Above all, if you do nothing else, replace the original "PLASTIC" focuser that comes with the Starfinder. The original plastic focuser is very, very bad as it has a very bad "JERKING MOTION" when attempting to fine focus your lens and makes it almost impossible to focus on an object. I originally opted to buy the "Dobsonian Deluxe Accessory Package" that comes with the "giant rack-and-pinion focuser, "PLASTIC", 6 x 30mm achromatic viewfinder, "PLASTIC", and two multi-coated Series 4000 Super Plössl eyepieces, 9.7mm and 26mm." The 26mm Super Plössl eyepiece will come with the Starfinder anyway. These lenses are OK starter lenses, but I guarantee you will be wanting to upgrade ASAP to much better lenses. Needless to say, I really wished I had saved my money and originally ordered the JMI focuser from Michael when I ordered the Starfinder.

NOTE #1:
If you decide to opt for the JMI Reverse Crayford 2" , RCF-1 focuser, you will need to enlarge the focuser opening, (HOLE), in the tube by about 1/8th inch to accommodate the JMI focuser. I used a Drumel tool with a sandpaper grinding tube to grind the opening larger. BE SURE you do not have the mirrors in the telescope tube when you do this as it creates a great deal of dust from the fiber tube and you will have to remove and clean them as well as the inside of the tube before you can go stargazing.

NOTE #2:
If you will be ordering the JMI Reverse Crayford 2" , RCF-1 focuser, remember to order the larger, 4.6" Drawtube Length which is an "option", found on the JMI Focuser Comparison Chart. Comes with a 1.25 inch adapter for smaller lenses. This will be the most expensive item I will be recommending for upgrading your Starfinder as it costs $168.00 plus shipping for the larger Drawtube size, " Required for the 16" Starfinder."

---

In the photo, (ABOVE), you will see my recommendation for the Viewfinder replacement for your Starfinder. The TelRad focuser is one of the more commonly seen viewfinders at a starparty in use by most other amateur astronomers and well worth getting. With the TelRad focuser, I am able to locate an object with almost pin-point accuracy, that is if I know where to look.


The TelRad only costs $36.95, plus shipping, from Adorama in New York.
HIGHLY RECOMMENDED!

Please use "Back" button to return to previous page.