Art's Meade 16" Starfinder For Sale
Hughesville, MO
Telescope Stored in Clinton, MO Area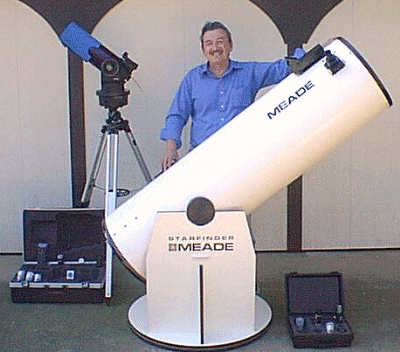 Inquires, please e-mail or call, Art Freeman, at:
art56mo@earthlink.net
Cell Phone: (660) 287-5262
---
Reason For Selling My Telescope
After moving to Missouri to retire, I suffered a heart attack, resulting in a 3-way heart bypass operation. Since then, I have not been able to set up my telescope due to its bulkiness and weight as the main mirror has a 16" diameter and about 2-1/2" thickness, weighing far too much for me to handle any more.
Telescope Description
I bought my second Meade 16" Starfinder telescope a couple years ago, making several upgrades and modifications to it. Only had it out for about a half dozen observing sessions before I moved to Missouri. The following are the upgrades and modifications I made to this telescope.
| | | |
| --- | --- | --- |
| Click to Enlarge | | 1. Replaced the secondary mirror spider with a much stronger, 4 vane ProtoStar diagonal mount assembly, (spider) $175.00. |
| | | |
| --- | --- | --- |
| Click to Enlarge | | 2. Replaced the "PLASTIC" Meade lense focuser with a JMI, all metal and ball barring Reverse Crayford 2" , RCF-1 focuser - $168.00. Comes with 1.25" metal lens adapter. |



Click to Enlarge

3. Replaced the cheap 6 x 30mm achromatic viewfinder scope with a TelRad viewfinder - $36.95.

The view seen through the window of the Telrad is continuous with the sky around it, not magnified or upside down. Three rings are lighted and appear to lie among the stars. The small ring outlines the Moon-sized area seen in the telescope. The large outer ring outlines the area seen in a standard Finderscope. To point your telescope, just look through the Telrad and move the telescope until the rings are centered on the object. The Telrad is 8 inches long and weighs 11 ounces. It unlocks from its base for separate storage. Requires 2 AA batteries



Click to Enlarge

4. Added a Magellan I Computer System to my new scope for $299.00 from Meade Corp.. Comes with sensors and additional mounting hardware.

Magellan I Computer System: Magellan I directs your manual motions of a Starfinder Dobsonian to locate, in 10 to 15 seconds, any object in the sky, either by calling up an object from Magellan I's database or by moving the telescope to known celestial coordinates (RA and Dec.).
Magellan I's database includes 7,840 NGC objects (the complete NGC catalog); 4,093 Index Catalog objects; 110 Messier objects; the 8 major planets from Mercury to Pluto, and more — 12,218 objects in total.




Click to Enlarge



Click to Enlarge

5. Added a LaserMate Collimator - $44.95.

This is the original LaserMate (#5680), made of machined, anodized aluminum and sporting a knurled grip. It fits 1.25" focusers and eyepiece holders and emits a beam of red laser light into the telescope. If the returning beam hits the hole where it was emitted, the optics are in exact alignment. If it misses, you just adjust the telescope's mirrors until it hits. LaserMate provides fast, pinpoint alignment every time.
| | | |
| --- | --- | --- |
| Click to Enlarge | | 6. Meade Camera Adapter 1.25" - Comes with scope. |
16" Starfinder Investment: $2,065.90
Asking: $1,400.00
---



Click to Enlarge

Case holding Magellan I Computer System, Sensors, Lenses, TelRad Finder, Camera Adapter Cords, and additional mounting hardware.

NOTE: Lenses will be sold separately or "WITH" Starfinder 16 Telescope. All other items in case go with telescope, inclusing case.
---
Lenses
The following lenses I bought for my scope are virtually like brand new, as they have only been used about a half dozen times. Why did I choose TeleVue lenses? Because they are, hands down, the best. Astronomy is all about viewing or seeing, so why have cheap lenses and only be able to see about half of what the TeleVue lenses can provide.



Click to Enlarge

TeleVue 35mm Panoptic - $380.00 - Asking: $300.00
The 35mm has a large true field with plenty of eye relief for eyeglass wearers. When combined with a Paracorr to correct the coma of an f/4.5 Newtonian, performance is spectacular across the 68 degree field. Imagine, sharp star clusters at the extreme edge of the field along with a 6.8mm exist pupil!



Click to Enlarge

TeleVue 12mm Nagler Type 4 - $365.00 - Asking: $280.00
For deep sky viewing. All Tele Vue eyepieces listed have full multi-coatings, blackened lens edges, high index glasses, fold-down eyeguards, and filter threads. They are all based on patented designs by Al Nagler and are individually tested to be diffraction limited on-axis.



Click to Enlarge

TeleVue 4x Powermate - $310.00 - Asking: $240.00
The Powermate™ consists of a negative doublet plus a positive "pupil-correcting" doublet. This 4-element system provides the magnifying function of a Barlow without its limitations by restoring the field rays back to their original direction, as if the Powermate™ were not there. The result is a pure magnification increase.
Inquires, please e-mail or call, Art Freeman, at:
art56mo@earthlink.net
Cell Phone: (660) 287-5262
Go To My Main Astronomy Site